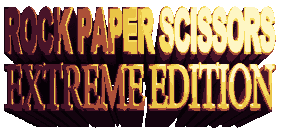 Rock Paper Scissors Extreme Edition
In the grand chamber of fighters three immemorial enemies meet for a deadly competition. They have however one new ability that the world have never seen and it changes everything...
Silly Fighting Game. You play rock, paper scissors but you can change your decision until the time ticks. Just look out for the limited actions count.

The game was done on Slavic Game Jam by a team of four and a musician. All assets and code were created within 48 hours of the jam.
The post-jam version features juicy effects and bug fixes.


Install instructions
Simply extract the archive and run the executable.